---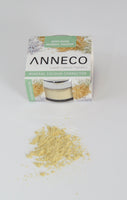 Sale
Yellow Concealer
This gives skin a "pick-me up" and helps correct dark circles under the eyes and puffiness. It can be used as a cover-up for bruises, as eye-shadow or as an over-all finisher to help brighten up the face. This effective camouflage makeup can be used both under liquid foundation and powder.

Made with 100% earth minerals, our Colour Corrector is specifically formulated to balance imperfections and perfectly cover and tone down the skin problem areas while providing the healing properties to treat skin issues.
Certain colors do the work for us when it comes to removing discoloration. 
Our all-natural, mineral-based Anneco Yellow Concealer lightens up your skin with neutralizing color which acts as an eye treatmets as well.
They contain nourishing and skin-loving ingredients such as vitamin E which help to fight free radical damage which help delay of appearance of fine lines,without blocking your pours.
Skin type: All
Coverage:medium-to-full (depending on application)
Size: 6.0 grams
A corrector is intended to cover the area like a concealer. Our Color Correctors are made to neutralize discoloration. After correcting the area apply your Anneco Loose Mineral foundation.

Anneco correctors are excellent for covering dark circles, bruises or for neutralizing redness. We have 3 shades to choose from.  Every skin discoloration can differ in color. For example, one's dark circles may be gray, while someone else's is blue or reddish.
Does not contain petroleum-derived ingredients or such as Dimethicone, Butylene Glycol, Pentylene Glycol, Propylene Glycol, Mineral oil, Petrolatum, Ethoxydiglycol or silicone-based additives (ingredients ending with -cone, -conol, or -xane), all of which give that silky feel to products, but can lead to clogged pores and may do more harm than good.
Anneco pure/natural/honest
As always Anneco Products are always made with love in westport Ireland by Anneco Experts.
Always in small batches to guarantee freshness for your skincare regime.
Always Cruelty free. 
Always Toxin Free
Always considering our beautiful Clean West of Ireland Environment by reducing our carbon foot print.